Bio: Cecily Anne Paterson is what they call a TCK, or a third culture kid, which basically means she grew up overseas and has some weird issues. Now she's a mostly normal Australian living in a small town in New South Wales, although her four children don't wouldn't necessarily agree with the mostly normal bit. She's been an editor, a communications officer, an ESL teacher and now a writer. Her ambition is to write two young adult books a year for the next ten years.
http://cecilypaterson.
squarespace.com/
(more for grownups)
https://www.facebook.com/
CecilyAnnePaterson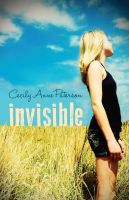 Book blurb:
Jazmine Crawford doesn't make decisions. She doesn't make choices. She doesn't make friends. Jazmine Crawford only wants one thing: to be
invisible
.
For Jazmine, it's a lot easier to take out her hearing aid and drift along in life pretending that nothing's wrong than it is to admit that she's heartbroken about her dad dying. She's been drifting and ignoring her over-worried mum for four years now. But something's got to give – and soon.
When bad girl Shalini and her mates adopt Jazmine, she follows along without thinking but quickly finds herself part of their plan to vandalise the drama classroom. Jazmine manages to save the key prop, a jewelled headdress, before drama teacher Miss Fraser walks in to find a room full of destruction. Later, sitting in disgrace in the principal's office, Jazmine is offered a choice: become a 'runner' for Miss Fraser in the upcoming production of The Secret Garden or face a three week suspension and a permanent mark on her record.
It's Miss Fraser who clinches the decision. "I believe in you Jazmine," she says. "I know you can do this." And Jazmine, terrified, disbelieving and elated all at the same time, joins the play and leaves her

invisible

life behind.
For a while it's all good. Writing in the new journal that Miss Fraser gives her connects her to the memories she has of her father. Drama star and chocolate lover Liam is friendly and Jazmine realises that making friends, talking to her mother and feeling her emotions isn't as scary as she thought. In the play, Jazmine becomes the prompter and a stand in and discovers to her amazement that she loves the stage and has a natural talent for acting. In a final happy twist of fate, acting diva Angela breaks both her ankles and with only a week before the curtain goes up, Miss Fraser asks Jazmine to take on the main role of Mary.
But it's not quite as good as it seems. Jazmine is still fearful and doesn't want to give too much away. She can't quite believe that Liam likes her, and is worried that if people knew what she was really like, they wouldn't want to be her friend.
But then Shalini returns from her suspension. In her mind, she has been betrayed. She's out for payback, and she expects that Jazmine is going to do what she's told, or else she just might expose her greatest secret...
(Please note: I was supposed to review this book for this post, but I just couldn't connect with the main character, so this was a dnf for me.)
Giveaway:


1 paperbacks of

Invisible

by Cecily Anne patterson
International
Ends June 22

une
a Rafflecopter giveaway
Please note: Invisible is available as a free download, too!